North America and other western countries have Thanksgiving Day in autumn, originally celebrating and thanking the blessing of a good harvest.  Japan has various kinds of local harvest festivals in autumn, too.  One of the weirdest festivals is "OSHISSAMA-no-Owatari" in Fukui.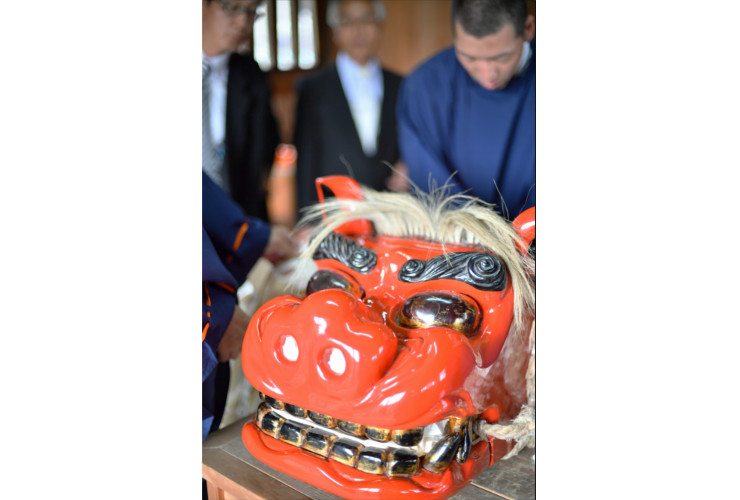 Japanese people have lived with nature for a long time.  Natural disasters,  such as earthquakes, tsunami, typhoons and volcanic eruptions, have unexpectedly occurred, killing many people.  The ancient people were scared of nature, believing a natural disaster was a sign of god's anger.  In order to please god and prevent such severe disaster, they offered a human sacrifice in some regions of Japan, especially in farming and fishing villages.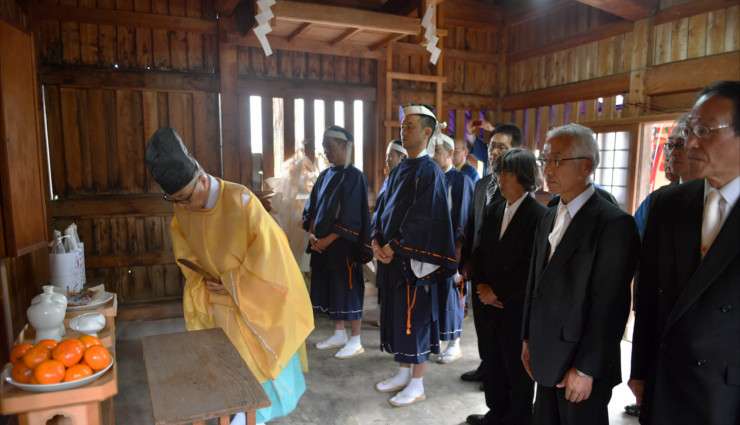 "OSHISSAMA-no-Owatari" is sadly rooted in such a human sacrifice.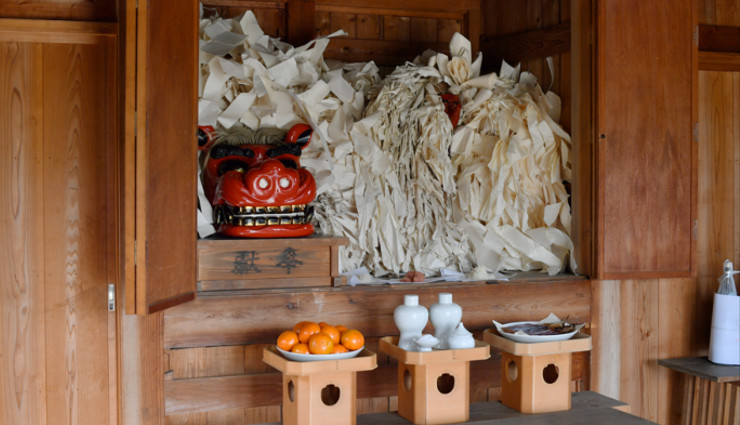 According to the folktale, once upon a time, local people believed that they had to offer a young kid as a human sacrifice in order to prevent serious famine.   One of the local children was chosen and sent to a spooky bridge named "SHINIKO-no-HASHI," every September.  However, one day, a samurai visited the village, saying "Your beliefs are totally wrong.  A monster has been tricking you for a long time."  He successfully got rid of the monster and left from the village soon after.  Finally peace came to the village: no more human sacrifice.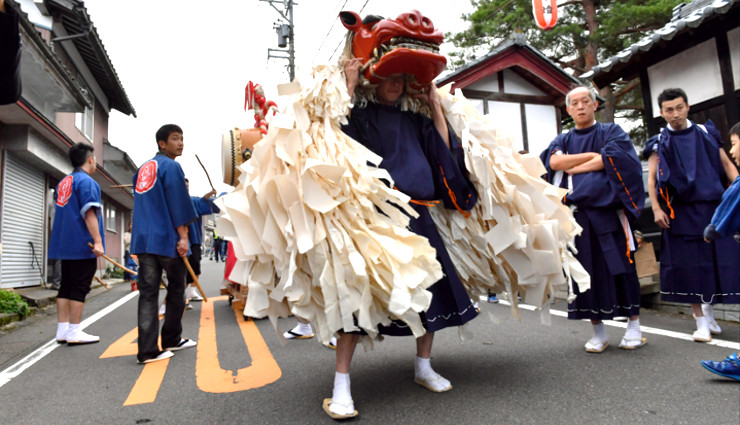 Since then, for more than 800 years, "OSHISSAMA-no-Owatari" has been held annually on the 2nd Sunday of October, celebrating freedom from human sacrifices and thanking the samurai named "Sarudahiko" and his wife.  One of the four local men bravely dances to drums toward the shrine named "Takao Shrine".  Local children cheerfully sing the song as follows: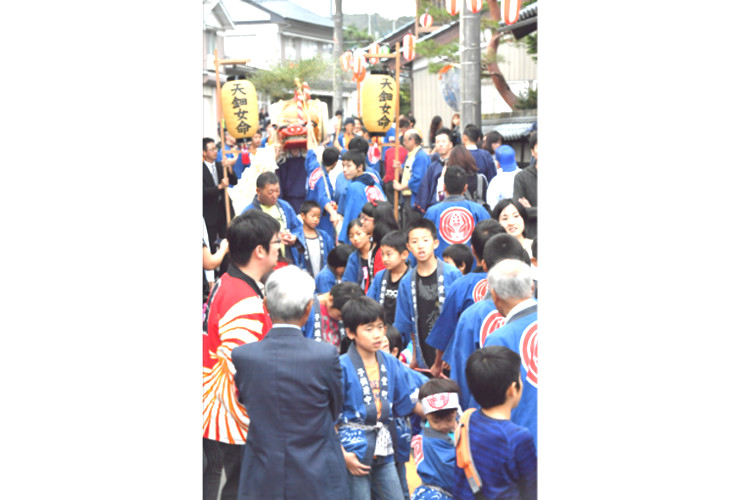 "After crossing the bridge named 'SHINIKO-no-HASHI', let the kid hold your breast and give him a meal.  If he doesn't like it, give him a feast."
The lyrics indicate the sad moment of a mother separating from her kid who is to be a human sacrifice.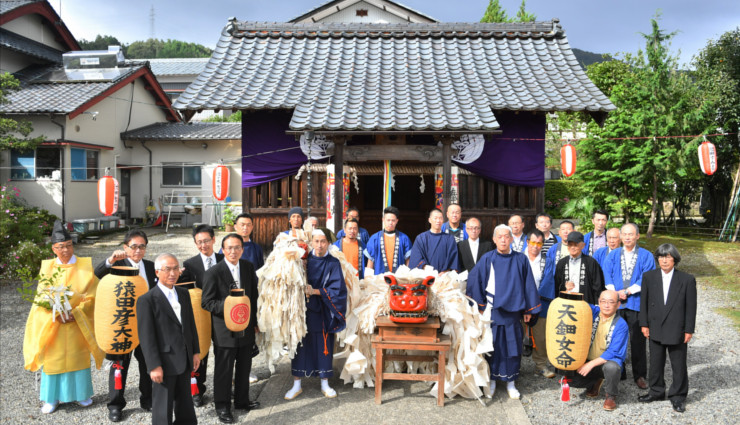 Nobody knows the reason why this song is focused on such a cruel moment.  The song may tell us the deep love of a mother to her children.  But nobody knows for sure.   That has remained a mystery for a long time.
【抄訳】
北米をはじめとする西洋の国々では、毎秋、収穫に感謝し、これを祝う感謝祭がありますが、日本でも、秋には、各地で様々な収穫祭が開催されています。とりわけ、奇妙なお祭りのひとつが、福井の「オシッサマのお渡り」です。
日本人は、長年、自然とともに生きてきました。地震や津波、台風、火山の噴火といった自然災害が突然起こり、多くの人命を奪ってきました。昔の人々は、自然を恐れ、自然災害は神の怒りだと考えていました。そこで、神を鎮め、災害を防ぐために、日本の農村や漁村では、人身御供が行われていました。
「オシッサマのお渡り」は、このような人身御供をルーツとしています。伝説によると、昔、地元の人々は、深刻な飢饉を防ぐために、子どもを1人、お供えしなければならないと信じていました。毎年9月には、地元の子どもたちから1名が選ばれ、「死児の橋」と呼ばれる気味の悪い橋に送られました。しかし、ある日、この村を訪れた侍が「君たちは間違っている。化け物が君たちをだましてきたのだ」と言い、化け物を見事に退治して、村を去って行きました。そして、ようやく、人身御供のない平和が、村におとずれたのです。
それ以来、人身御供から解放されたことを祝い、猿田彦という侍とその妻に感謝する「オシッサマのお渡り」が、800年以上にわたって、毎年10月第二日曜日に開催されてきました。地元の若者の一人が高雄神社に向かって勇ましく太鼓を打ち鳴らし、地元の子どもたちは元気よく、こんな歌を歌います。
「シニコノハシヲ コシタナラ イカイチチヲ ニギラセテ ナンバミソイヤナラ ゴットミソ(『死児の橋』を越したなら、大きな乳房を握らせて、なんば味噌が嫌なら郷土料理『ごっと味噌』を食べさせよ)」
この歌詞は、人身御供により、子どもと離ればなれになる母の悲しい瞬間を表しています。
なぜこんな残酷な瞬間が歌になっているのか、誰も知りません。子どもへの母の深い愛を伝えようとしたものかもしれませんが、よくわかりません。長年、ナゾのままです。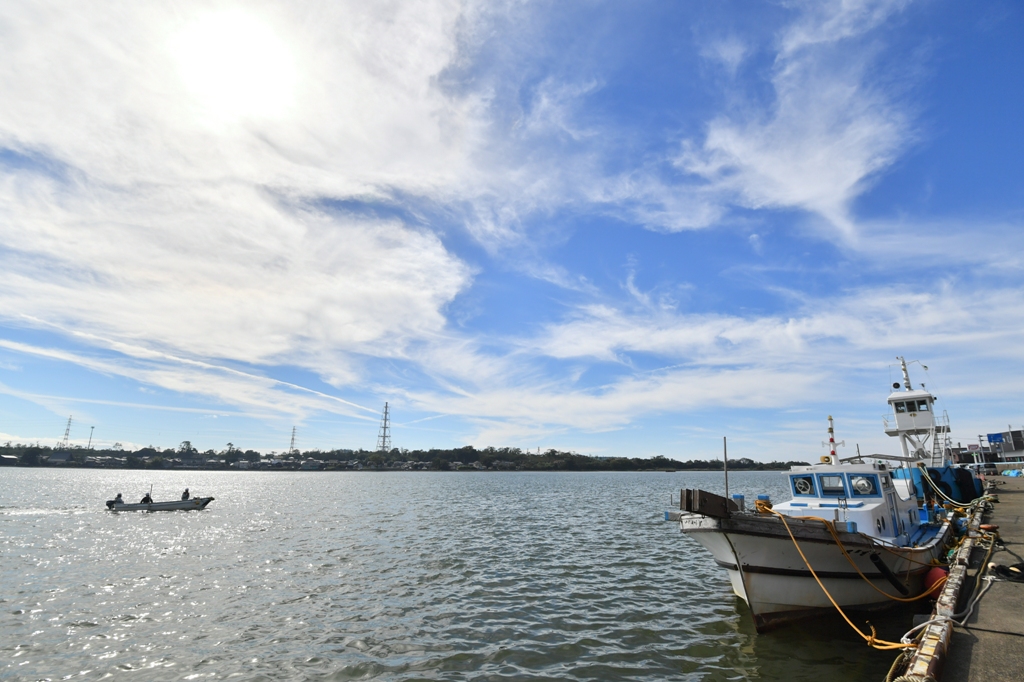 November 20th, 2016
Mikuni-Minato (Sakai City)
There is a huge demand for new buildings and houses in Japan. Traditional buildings and houses have been disappearing as owners and developers choose to replace them with contemporary properties, instead of renovating or remodeling them. However, Japan has an opportunity to turn many of the old ones into tourist attractions....
READ MORE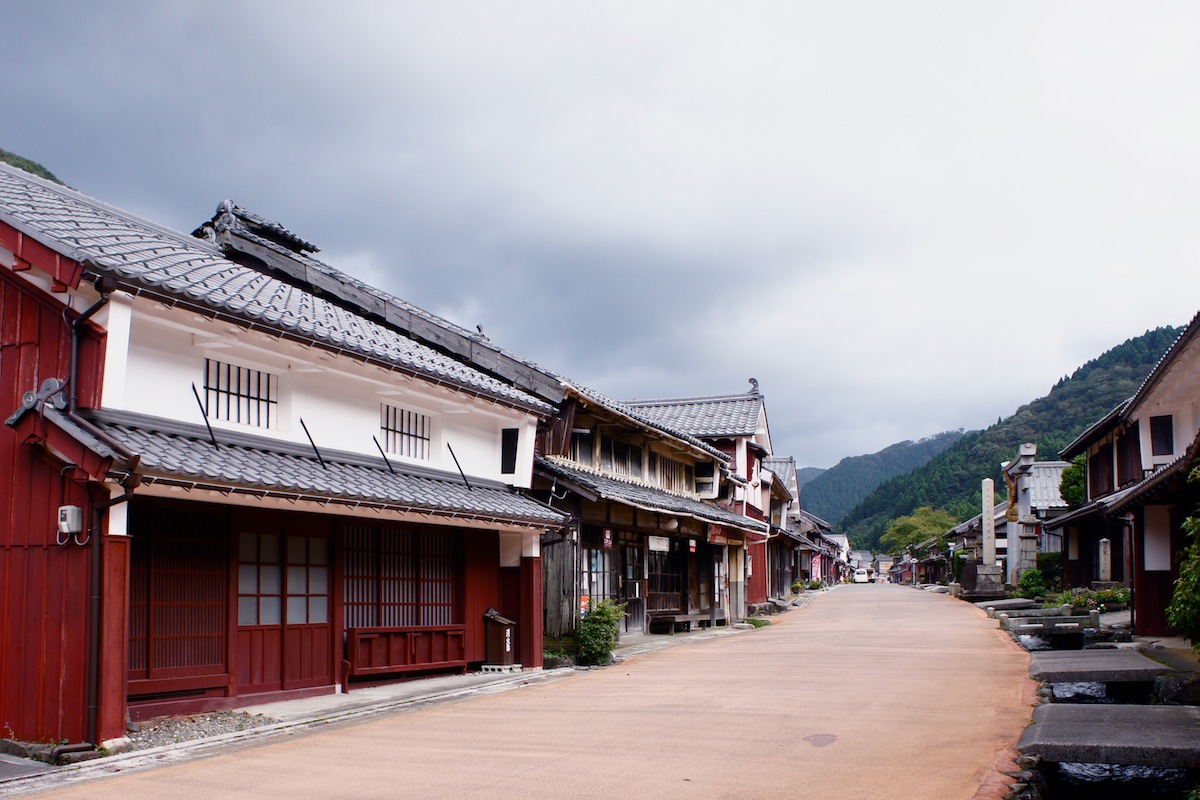 November 18th, 2016
Kumagawa-juku (Wakasa Town)
The Silk Road was an ancient trade route that connected Europe to China, a distance of over 7,000 kilometers. China's exports tended to be silk, salt, teas, spices and porcelain. In Japan, a much shorter route, known as the Saba Road (鯖街道) connected southern Fukui, to Kyoto, just 70 kilometers...
READ MORE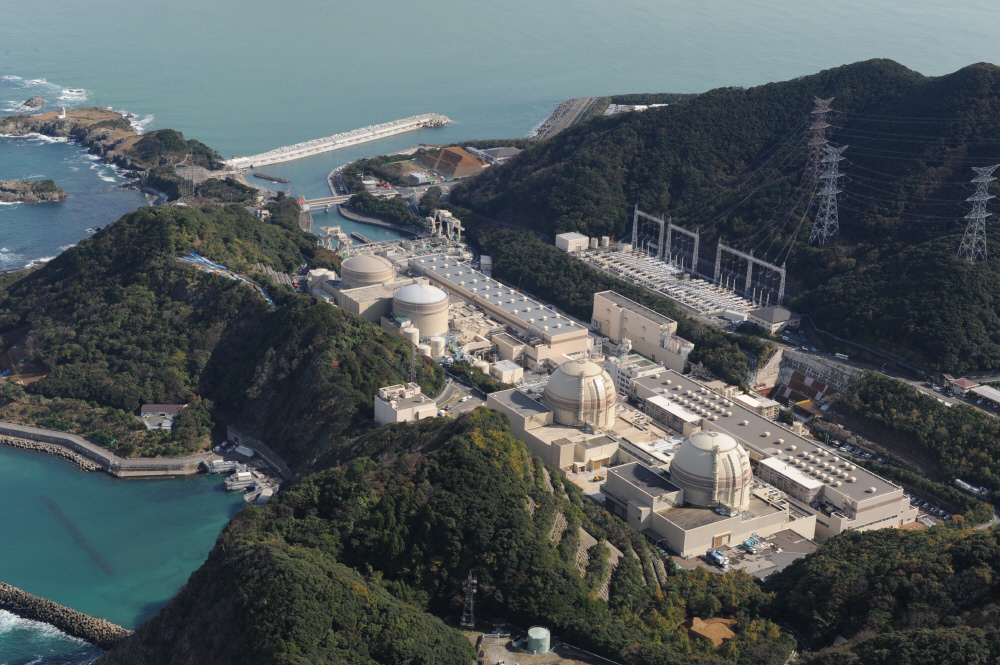 November 16th, 2016
Local people bear the risk as well as enjoy the benefit. (Ohi Town)
Japan is an island nation, one with very few of its own energy resources, such as oil and natural gas.  As of 2012, its energy self-sufficiency rate was a mere 6%, the second lowest among OECD member countries.  It has no power grid or pipeline to be accommodated with energy...
READ MORE