Artist-in-residence programs are often established to give developing artists the opportunity to stay and do creative work in a new location for a fixed period of time.  They provide artists with the time and space needed to engage in creative activities, such as reflection, research, presentation and production. Many programs have been around for more than a century.  Since the 1990s, such residency programs have been proliferated all over the world, including Japan.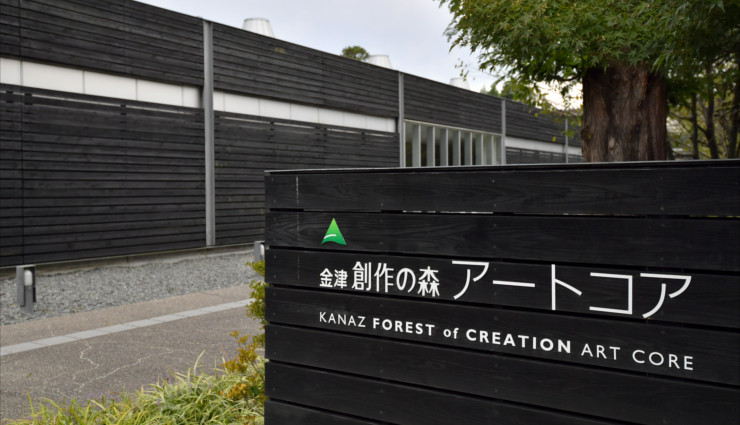 The Kanazu Forest of Creation (金津創作の森), an open-air museum and residence for artists, was founded in 1999 in a 200 hectare large forest, draped on the hills of Awara (あわら) City, in northern Fukui.
Throughout the forest, 13 artworks created by domestic and international artists, are permanently displayed outdoors.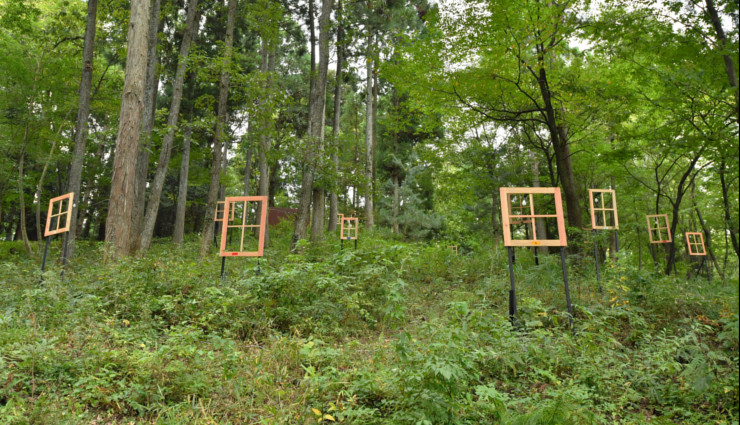 Exhibitions, presentations, lectures, events and workshops on art are held in its main facility called the Art Core.   For example, a local crafts market is held every autumn, in which more than 80 artists/artisans participate in.

The Kanazu Forest of Creation also provides residences for artists, where two ceramic artists, a glass artist, a bamboo craftsman, a musician and a dyed painter live and work in their own home/studio.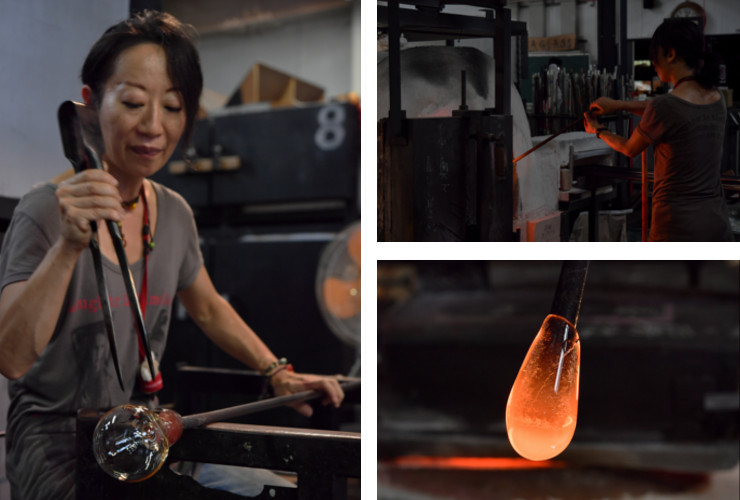 The renowned dyer Sumiko Kato (加藤すみ子), has lived there with her husband since 1999.  Her home/studio named Hamuro (葉室), i.e., "leaf house" in English, is an 130-year-old Japanese-style house, surrounded by trees and bamboo.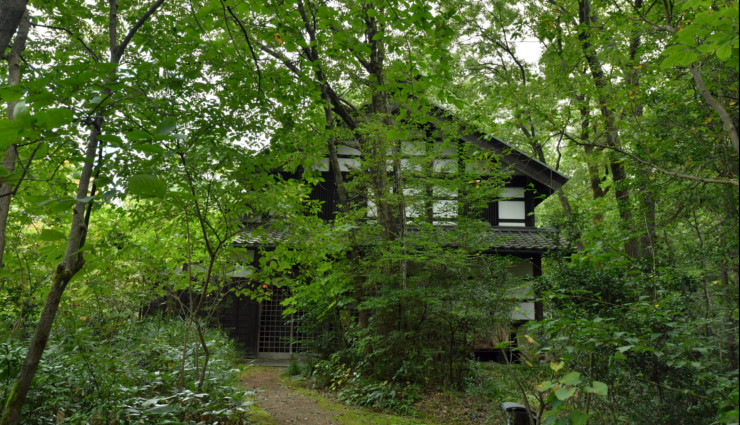 Batik is a wax-resistant dyeing technique used on textiles.  In order to create complex multicolored designs, an artist uses wax to prevent dye from penetrating the textile. This leaves blank areas in the dyed textile. The wax is then removed with boiling water, and the dying process is repeated over and over again.  Indonesia is famous for batik.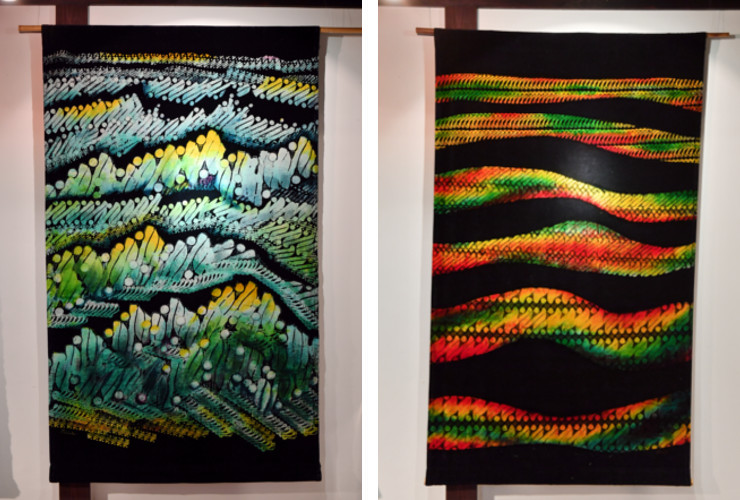 Sumiko, an ex-oil painter, who was an art teacher in junior high school, began to work on batik in her mid-30s.  When she was 55, she moved to Indonesia and developed her skill for three years.  After coming back to Japan, she settled in the Kanazu Forest of Creation so that she could further develop her creative work with batik.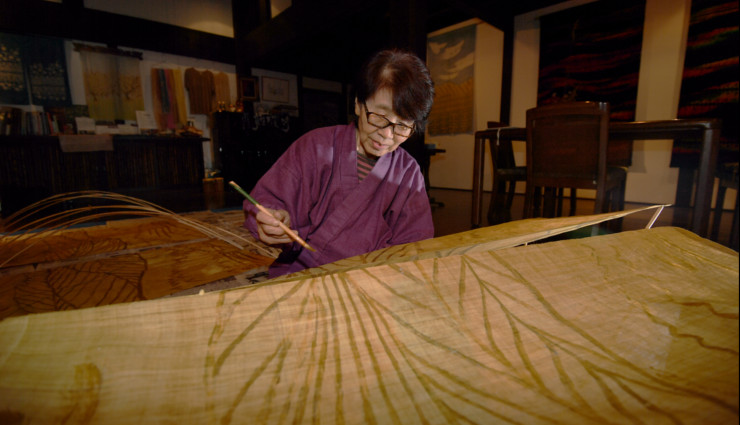 Sumiko picks flowers in the forest and uses them as dye.  Miscanthus tinctoriuses (a type of dye) turns a vivid yellow; fruits, leaves and burrs of chestnuts become dark brown; and green leaves of cherry blossoms turn into beautiful pink.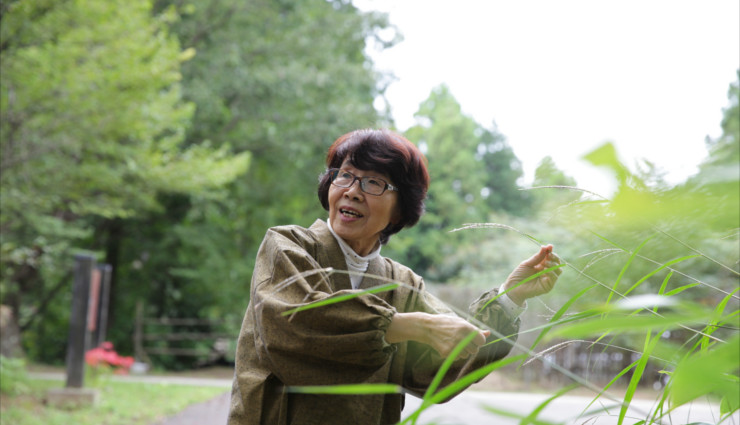 She found that colors subtly change when adding iron-rich spring water found in the forest.  She said, "Flowers in the forest give me various kinds of colors, depending on the season and techniques used.  Creating batik is like having a conversation with nature."  She takes a walk in the forest with her husband every morning, feeling the gradual changes of the seasons.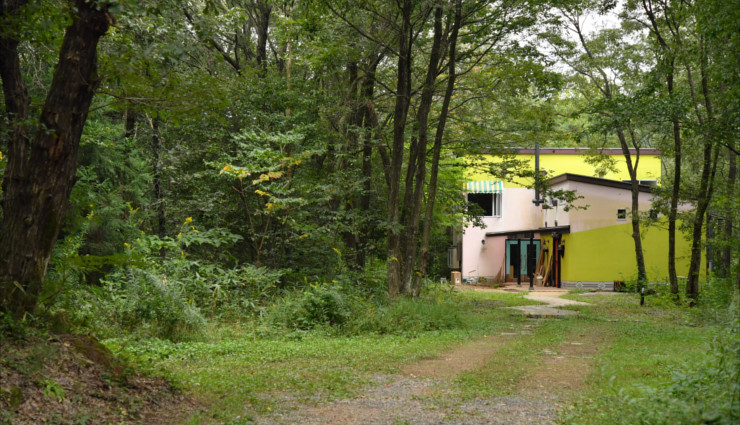 The Kanazu Forest of Creation is a creative community, connecting people, nature and art.  And, it is open to everyone.  Welcome!
【抄訳】
アーティスト・イン・レジデンスとは、アーティストを招き、一定期間、ある場所に滞在させ、創作活動をさせるというもので、100年以上もの間、研究、発表、製作など、創作活動のための時間と場所を、アーティストたちに与えてきました。1990年代以降は、このような制度が、日本を含め、世界中に広がっています。
「金津創作の森」は、1999年に創設された、"野外美術館"兼"アーティスト・イン・レジデンス"で、福井県北部あわら市の丘に広がる200ヘクタールの森にあります。この森には、国内外のアーティストの作品13点が常時展示されています。
主要施設である「アートコア」では、アートにまつわる展示会や発表会、講演会、イベント、ワークショップが催されています。たとえば、毎秋には、80以上ものアーティストや職人が参加するクラフトマーケットが開催されています。
「金津創作の森」は、"アーティスト・イン・レジデンス"でもあり、2名の陶芸家とガラス工芸作家、竹細工職人、作曲家、染画家が、それぞれの住居兼アトリエで生活し、創作活動に取り組んでいます。
染画家の加藤すみ子さんは、1999年の創設当初から、夫とともにここで暮らしてきました。加藤さんの住居兼アトリエは、木々や笹に囲まれた築130年の日本家屋で、葉の家を意味する「葉室」と名付けられています。
ろうけつ染めとは、ろうではじく染めの手法です。ろうを使って、布が染まらない部分をつくり、熱湯で洗いながすことを繰り返すことで、複数からなる複雑な色をデザインできます。とりわけ、インドネシアは、ろうけつ染めで有名です。
かつて中学校の美術教師をつとめ、油絵画家だった加藤さんは、30代半ばからろうけつ染めをはじめ、55歳のとき、インドネシアに移って、3年間技術を磨きました。そして帰国後、ろうけつ染めの創作活動のため、「金津創作の森」に居を構えたのです。
加藤さんは森で草花を摘み、染料として使っています。カリヤスは鮮やかな黄色になり、栗の実や葉、イガは渋い茶色になります。緑色した桜の葉は美しいピンクに染まります。
鉄分を含んだ森の湧き水を加えると、微妙に色合いが変化することも、わかりました。「森の草木は、季節や技法に応じて、私に様々な色を与えてくれます。ろうけつ染めを通じて、自然と会話することが楽しいです」と語る加藤さん。毎朝、夫と二人で森を散歩しながら、徐々に移り変わる季節の変化を肌で感じています。
「金津創作の森」は、人と自然、そして芸術をつなぐクリエイティブなコミュニティ。もちろん、万人に開かれています。ようこそ。