"Washi (和紙)" is Japanese traditional paper. It often has a gentle color and is quite durable.
Echizen Washi (越前和紙), which has been produced in Imadate (今立), Fukui for about 1,500 years, is one of the most traditional "Washi" in Japan.  The paper has been used not only by old Japanese painters like Taikan Yokoyama (横山大観)and Hoan Kosugi (小杉放菴), but by contemporary artists such as Yuki Nishimoto (西元祐貴) as well.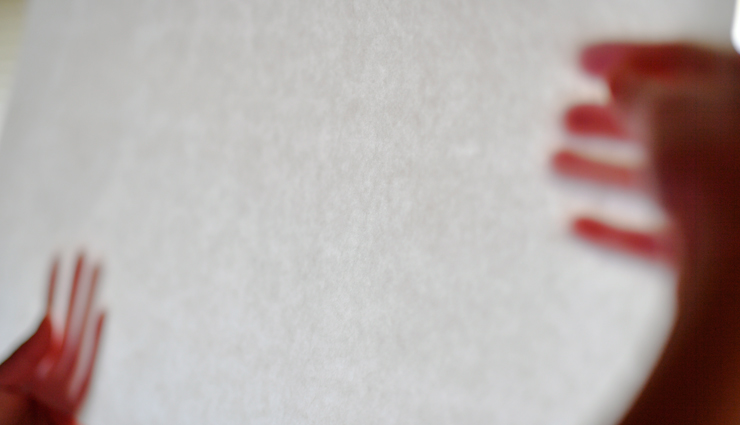 Echizen Washi is popular among paper enthusiasts outside of Japan, too.  According to Elissa Campbell, a book designer from Vermont, in the United States, Echizen Washi has been imported and sold in Vermont for more than 20 years.
Life with Japanese paper, thanks to a paper goddess(Echizen-Washi.Echizen City) from Mizukami Akihito (I'M HERE) on Vimeo.
Imadate, the home of Echizen Washi, is a small town among the mountains of Fukui, and consisits of five villages (Iwamoto, Ohtaki, Oizu, Sadatomo, Shinzaike). About 70 local paper studios and factories are located along the Okamoto River here.
Most of them are family owned, which employ their relatives and neighbors as craftsmen. Their workplaces are often located very close to their residences. i.e., their work naturally blends with their daily life.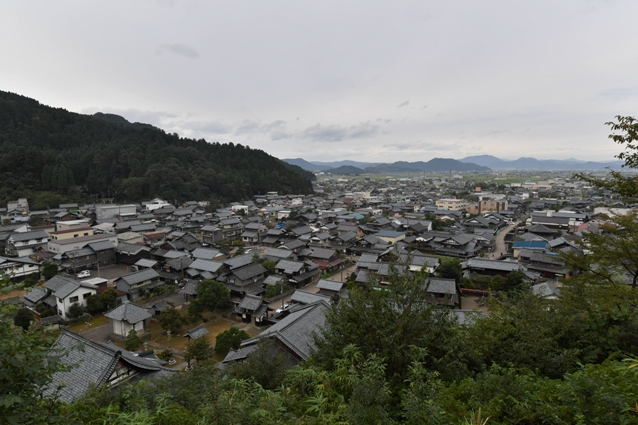 The Okamoto Otaki Shrine (紙祖神岡太神社・大滝神社) is the icon of Imadate, founded in the early 8th century. It is famous for being the only shrine dedicated to a goddess of Paper in all of Japan.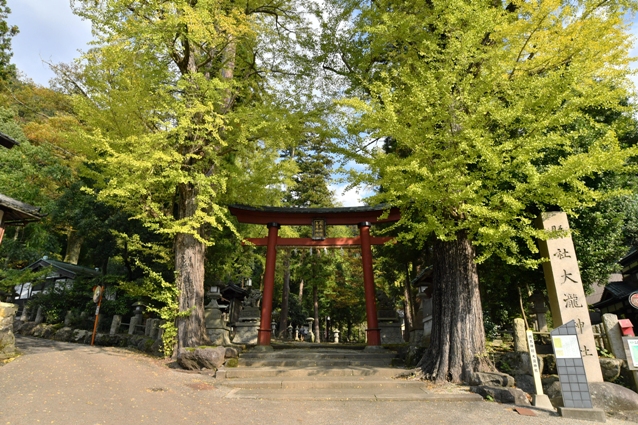 The folktale has been told as follows:
– A beautiful woman appeared at the upper river of Okamoto about 1,500 years ago, saying to the residensts there "you don't have many rice fields, but you do have clean water suitable for paper-making here". The local people had followed her advice and have been diligently making paper ever since. After a while, paper-making became the major industry and has helped the local people to make a living. –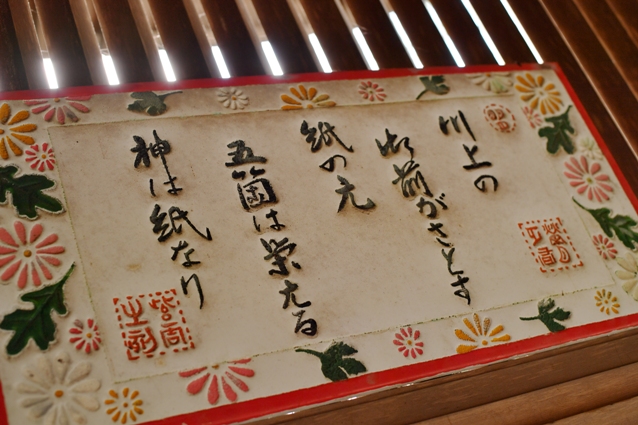 The folktale has become deeply rooted in the hearts of  the local people of Imadate, who still pass  on the tradition and culture of paper-making from generation to generation.
Visitors can learn how to make Echizen Washi using the traditional tools at the Udatsu Paper & Craft Museum.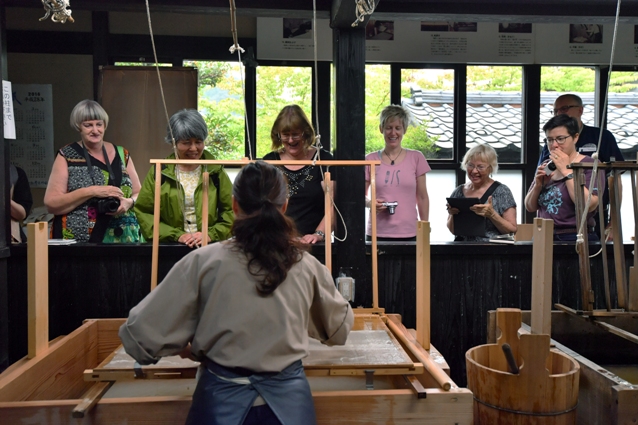 Washi is made from trees that have long, thin fibers, such as mulberry and Gampi.  As those thin fibers bind together, Washi becomes strong and lasts longer than western paper.
Such fiber-based materials are placed, and then evenly and thinly spread with small waves on a wooden frame named "sukibune".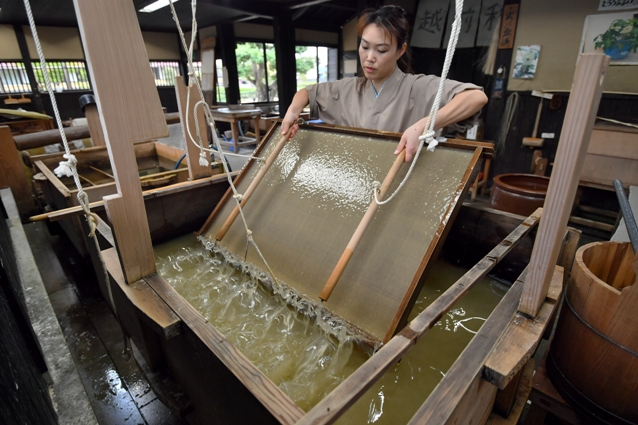 More local paper studios are open to the public, showing them the traditional manufacturing process of Echizen Washi.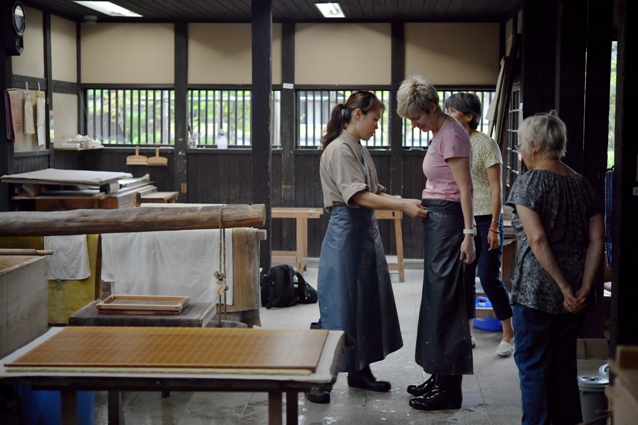 Makiko Iwano, an experienced craftswoman with 25 years experience, welcomes any visitor, saying "our goal is to make exceptional paper for artists, so that they will want to use our paper again. I hope you also feel the beauty of our paper."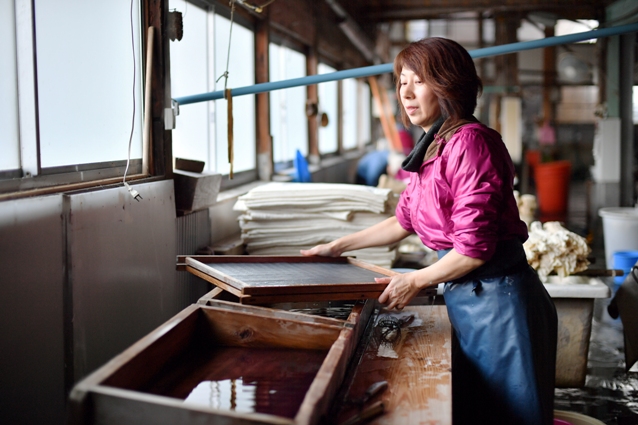 Not only Makiko but many local people warmly welcome visitors from all over  the world. Katsuhiro Hata, an owner of a photo studio and an ex-backpacker traveling who once travelled around the world, volunteers by helping tourists, much like a concierge.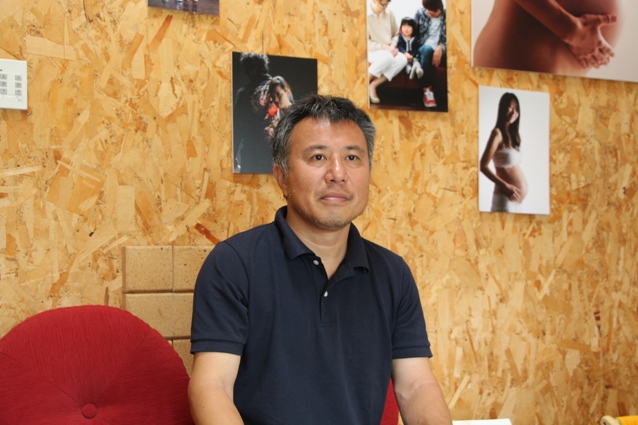 Elissa and her husband had a nice dinner party with Katsutoshi and his local friends during their stay in Imadate.  They said, "We are lucky enough to have such a local experience here, as well as learning a lot about Echizen Washi.  We feel relaxed, like visiting our relatives, even though this is the first time to visit Japan."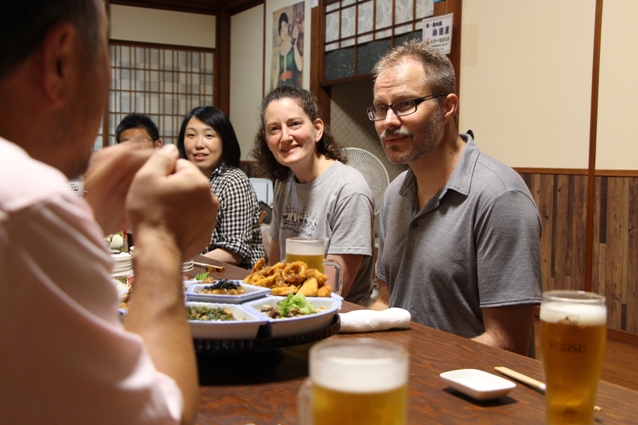 Imadate is a small town, having no hotel but heart-warming hospitality of the local people. Anyone is welcomed at anytime in Imadate, the home of Echizen Washi!
【抄訳】
和紙とは、日本の伝統的な紙で、やわらかな色と丈夫さが特徴です。
とりわけ、福井県今立地区で1500年間、生産されている越前和紙は、伝統的な和紙のひとつ。横山大観や小杉放菴といった昔の日本画家や、西元祐貴をはじめとする現代のアーティストが、自らの作品に越前和紙を用いています。
越前和紙は、国外の"紙オタク"にも人気があります。米バーモント州のブックデザイナーであるエリッサ・キャンベルさんによると、越前和紙は、20年以上前から輸出され、バーモントの紙専門店で販売されていたそうです。
越前和紙の里である今立は、5つの集落(大滝、岩本、不老、新在家、定友)からなる、福井県の山間にある小さなまちで、岡太川に沿って、およそ70の工房や工場があります。
その多くは、家族経営で成り立っており、親戚や近所の住民を職人として雇い入れています。職場と住居はとても近く、仕事が日常生活に溶け込んでいます。
8世紀前半に建立された大瀧神社は、今立の象徴であり、日本で唯一、紙の神を祀った神社です。
このような伝説が受け継がれています。
1500年前、岡太川の上流に、美しい女性が現れ、「ここには田んぼはないが、紙をつくるのに適した、清らかな水がある」と告げた。地元の人々は、この言葉にしたがって、紙をつくりはじめた。やがて、和紙づくりが地元の主要産業となり、地元の人々の生計を支えるようになった。
この伝説は、今立の人々に深く根付き、和紙づくりにまつわる伝統や文化が、世代から世代へと受け継がれてきました。
観光客は、卯立の工芸館で、昔ながらの道具を使った越前和紙の作り方を学ぶことができます。
和紙は、楮(こうぞ)や雁皮など、繊維が細くて長い木からつくられます。細い繊維が絡み合うことで、和紙は、洋紙に比べて、長持ちするのです。
木の繊維をベースとした原料を「漉き舟」という木枠に置き、波をたてることで、薄く、均等に広げていきます。
また、一般に公開している工房も多く、越前和紙の伝統的な生産プロセスを見せてくれます。
25年のキャリアを持つ職人の岩野麻貴子さんは、「作家さんに『もう一度使いたいと思ってもらえる紙を作ることが目標。多くの方に和紙の美しさを知ってもらいたい』」と、外部の見学者を歓迎しています。
岩野さんにとどまらず、地元の人々の多くが、世界中からやってくる観光客を温かくもてなしています。かつてバックパッカーとして世界を旅し、現在、写真館を経営している畑勝浩さんは、ボランティアで、観光客をサポートしています。
キャンベルさん夫妻は、今立での滞在中、畑さんら、地元の仲間たちと、夕食を囲みました。「越前和紙のことをたくさん学べただけでなく、このような地元ならではの体験ができて、ラッキーです。日本を訪れたのは今回が初めてなのですが、親戚のうちに来たような、リラックスした気分です」と話してくれました。
今立は、地元の人々の心温まるおもてなしだけがある、ホテルもない小さなまち。越前和紙の里・今立へ、ようこそ。