As the local food movement grows, the number of farmers' markets has been increasing, especially in Europe and the North America. According to the U.S. Department of Agriculture (USDA), 8,268 markets were listed on USDA's National Farmers' Market Directory in 2014, an increase of 76% from 2008.  At a farmers' market, consumers can buy fresher, healthier, seasonal, locally grown food at cheaper prices, while farmers can sell their products independently, and directly to consumers, earning more profit without the need of a middlemen. A farmers' market is also an opportunity for the community to meet neighbors and build a social connection between farmers and consumers.
430-year-old morning market in Ono, Fukui (Shichiken-Asaichi) from echiwa on Vimeo.
Ono (大野), a snowy town surrounded by mountains in eastern Fukui, has a much older history with farmers' markets. The local morning market known as the Shichiken-Asaichi (七間朝市), has been bringing farmers and consumers face to face for more than 430 years.
Ono's streets are laid out in a grid pattern much like Manhattan, only Ono's were built in 1573. Back then, a vassal of Oda Nobunaga named Nagachika Kanamori, built Echizen Ono Castle on top of the 249 meter tall Mt. Kameyama.  This castle is often called "the castle in the sky", because on certain foggy mornings it looks like it's floating on a sea of clouds.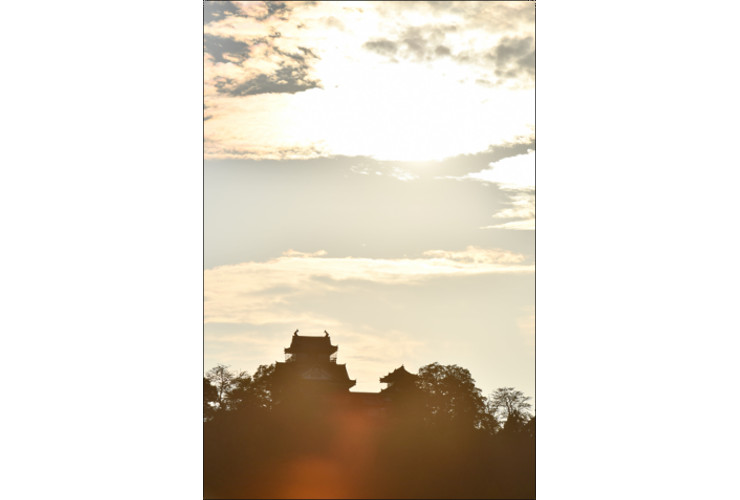 The Shichiken Street was first established at the foot of Mt. Kameyama as the city's main street, where local craftsmen and merchants worked. Local farmers founded the morning market, Shichiken-Asaichi, and began to sell their fresh vegetables on the street there.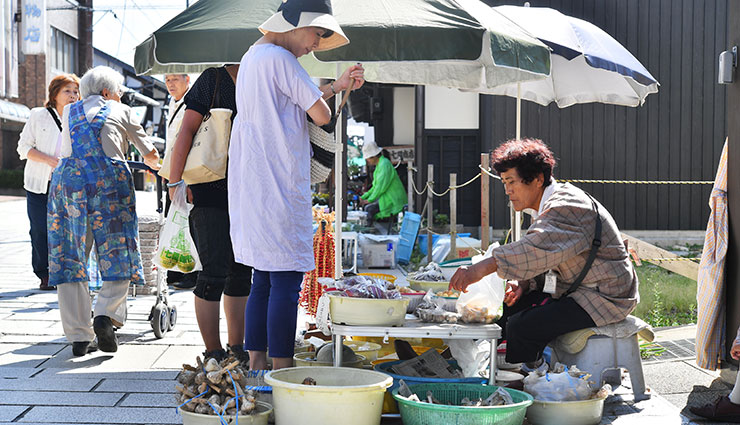 Shichiken-Asaichi opens every morning from the vernal equinox (around March 20) to new year's eve (December 31).  At around 5:30 a.m., local farmers come to the market with the fresh fruits and vegetables harvested earlier that morning, and sell them at each stand until 9:00 a.m..
Various kinds of vegetables, such as tomatoes, pumpkins, corn and garlic, as well as seasonal vegetables like edible wild vegetables in spring and taro in autumn, are available at cheaper prices. Everyone, from local elders out for their morning walks, to businessmen and women on their way to the office, even tourists from other parts of Japan visit the market. Local farmers warmly welcome visitors, telling them their  recommendations of the day and offering them some tips for cooking. 
Shizuko Chido is one of the well-known faces at the market. She has been opening her stand every morning for more than 10 years, enjoying talking with visitors. Her friendliness makes her shine, even on cold, cloudy mornings. Many of her regular customers drop by her stand every day. The shiny fresh eggplants, which were harvested at her farm earlier in the morning, are sold one after another.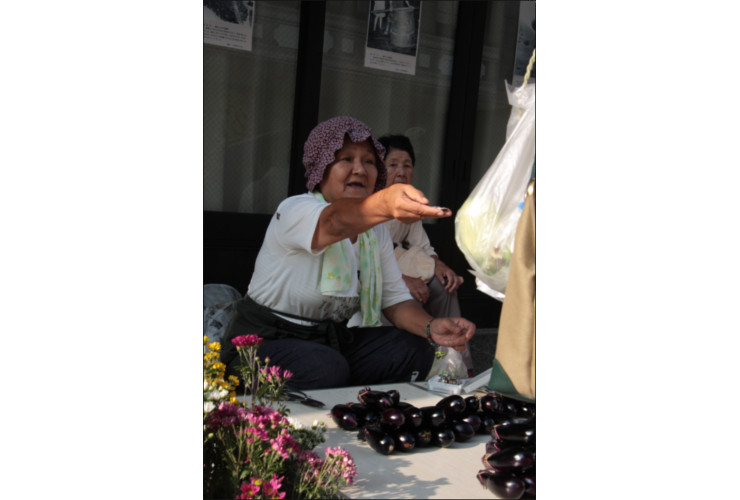 She always thanks nature, believing that she makes her life by the grace of the fields and mountains. After her business at the market, she sometimes visits her customers in person and gives them surplus food for free if she has any leftover.
At 6 a.m., we met one lady who visited the market for chrysanthemums.  As you may know, chrysanthemums are special flowers to be offered to a family Buddhist altar in Japan.  She said, "I always buy chrysanthemums here at this morning market when my flowers have withered. I want to offer fresh ones to the altar at the beginning of the day." Shichiken-Asaichi has been a part of the daily life for local people in Ono.
At the morning market, the street was crowded with many stands until 20 years ago, satisfying the food demand of the local people.  Although the number of stands has been decreasing due to the aging population here, it is still one of the best places to buy local food, and a community meeting place for local people to gather. It is also an interesting place for visitors to learn about the local people and get to know their daily life.
【抄訳】
地産地消ブームが高まるにつれて、とりわけ、欧州や北米では、ファーマーズマーケットが増えてきました。米農務省によると、農務省のファーマーズマーケットリストに登録されている件数は、2014年時点で8268件と、2008年以来、76%増加しています。消費者にとっては、新鮮でからだによく、旬な地元の食材を安価に買い求めることができ、農家は、生産物を、独自で、すぐに、消費者に直接販売でき、中間業者が介在しないため、より多くの収益を得ることができるのが、ファーマーズマーケットの魅力です。また、ファーマーズマーケットは、近隣の人々が集うコミュニティの場であり、農家と消費者が顔を合わせ、社会的なつながりの構築を促す場でもあります。
山に囲まれた雪深いまち・大野には、ファーマーズマーケットの長い歴史があります。七間朝市という地元の朝市は、430年以上もの間、農家と消費者を直接つないできました。
マンハッタンのように碁盤の目になった大野の街並は、1573年、織田信長の家臣であった金森長近が、標高249メートルの亀山に越前大野城を築城した際、整備されました。越前大野城は"天空の城"として知られ、霧が立ちこめた早朝には、雲海に浮かんだように、幻想的な姿をみせます。七間通りは、亀山のふもとに最初に整備されたメインストリートで、地元の職人や商人が集まるエリアとなりました。地元の農家は、ここに朝市を開き、通りで新鮮な野菜を売りはじめたといわれています。
七間朝市は、春分の日から大晦日まで、毎朝開催。朝5時半には、地元の農家たちが、その日の朝早くに収穫した新鮮な青果物を持ち込み、9時までそれぞれの売り場で販売します。トマトやかぼちゃ、トウモロコシ、ニンニクなどの野菜に加え、春には山菜、秋には山芋と、季節の野菜も、割安な価格で販売され、朝の散歩中のお年寄りや、出勤途中のサラリーマン、他県からやってきた観光客らが、この朝市を訪れます。地元の農家たちは、お客さんを温かく迎え、その日おすすめのものや、料理のコツなどを、教えてくれます。
千藤しず子(ちどう・しずこ)さんは、この朝市の顔のひとり。10年以上、毎朝、出店し、お客さんとの会話を楽しみにしています。人懐っこいキャラクターも人気の秘訣。常連のお客さんが毎日、しず子さんの売り場に立ち寄り、その日の朝に収穫されたつや光りした新鮮なナスが、次々と売れていきます。しず子さんは、「田畑や山の恵みで生活させてもらっている」と、自然への感謝の念を忘れません。朝市が終わると、ときどき、常連さんを直接たずね、売れ残った食材を無償で配っています。
朝6時、菊を買い求めに朝市にやってきた女性と出会いました。菊は、日本では、家庭の仏壇にお供えする、特別な花です。「花がしおれるといつも、ここの朝市で、菊を買っています。一日のはじまりに、新鮮なお花をお供えしたいから」と語ってくれました。七間朝市は、大野の地元の人々の日常生活の一部になっています。
20年前までは、朝市では、多くの農家の売り場でにぎわい、地元の食の需要を満たしてきました。高齢化や後継者不足で、売り場の数は減ってきましたが、七間朝市は、いまだに、地元の食材を扱う市場であり、地元の人々のためのコミュニティの場であり、地元の人々とその日常生活を知ることのできる興味深いスポットです。