'A rolling stone gathers no moss' is a common proverb in English. Coincidently, the Japanese have a similar idiom, 'No moss grows on a rolling stone (転がる石に苔むさず)'. In Japanese, the meaning differs from the modern English interpretation of the proverb, suggesting that a person who does not settle in one place will not accumulate wealth, status, responsibilities or commitments: in other words, 'Stick with it' and 'Patience pays off'. As these idioms show, moss represents the effects of time. Japanese culture values time, age and history. Therefore, it could be said that Japanese people are obsessed with gathering "moss."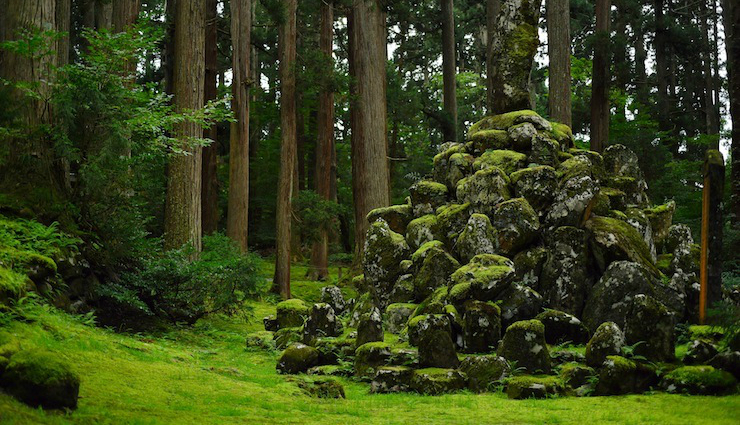 Mosses are small flowerless plants that usually grow in dense green clumps. They are classified into approximately 12,000 species, more than 2,500 of which inhabit Japan due to its humidity.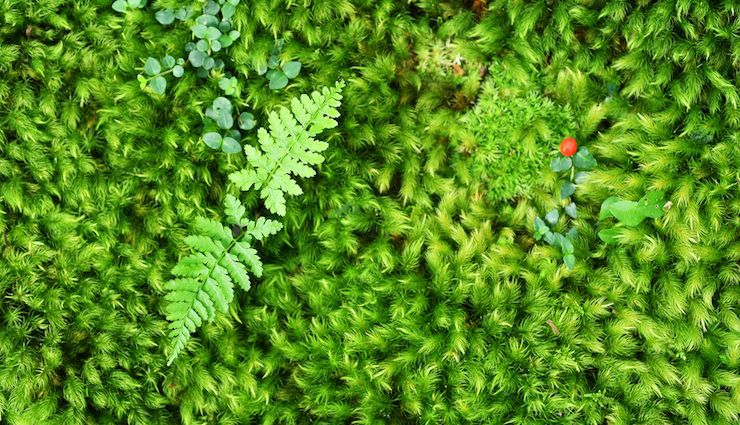 Heisenji Hakusan Shrine (平泉寺白山神社) is known as a beautifully mossy place at the foot of Hakusan (白山), one of the sacred mountains in Japan.
Mossy 1300-year-old Shrine (Heisenji Hakusan Shrine) from echiwa on Vimeo.
In Japan, people have lived with nature since ancient times. Mountains, which had given them everything essential to life, such as water, food and wood were particularly important. People were grateful to them and some even began to worship mountains as deities.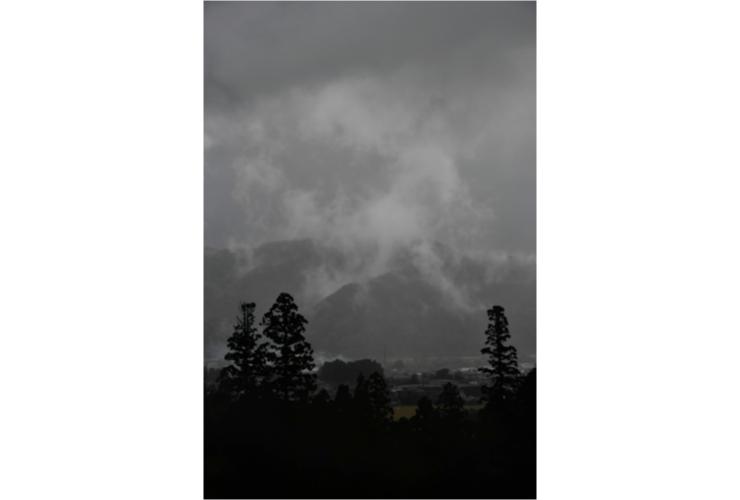 As a base for such mountain worship, Heisenji Hakusan Shrine was established by the Buddhist priest, Taicho (泰澄), 1,300 years ago.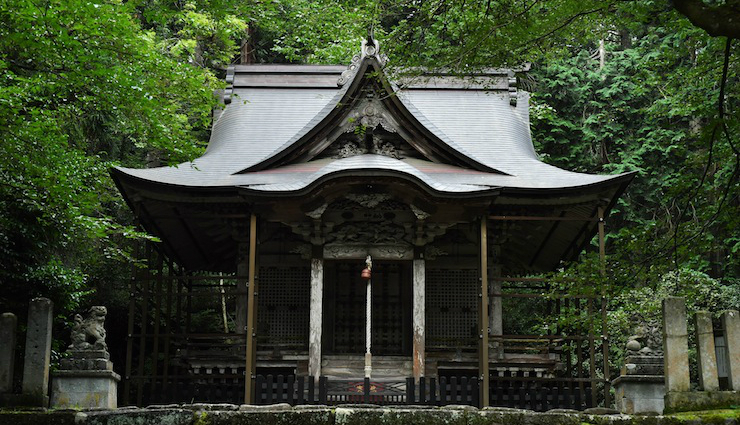 From the time it was first established in 717, Heisenji Hakusan Shrine developed as a holy town, with 48 shrines, 36 temples and 6,000 monks' residences by the middle of the the 16th century. However, it was completely burned down by war in 1574, and has since fallen into decay.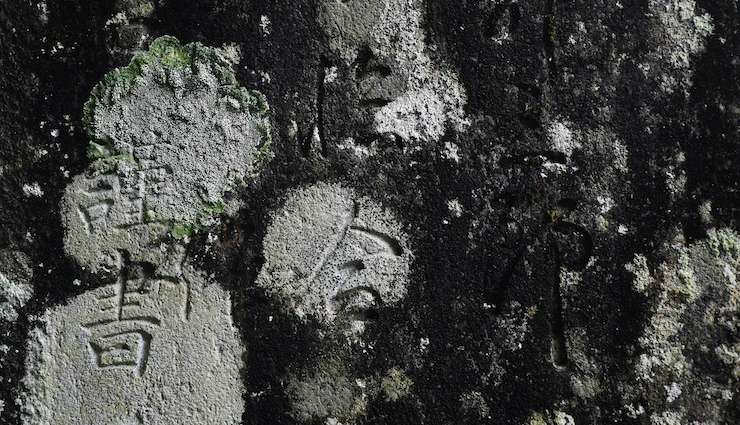 The ghostly ruins spread over 200 hectares, and much is still unknown to us. The excavation of this area has been under way since 1989, but only 1% of it has been completed so far.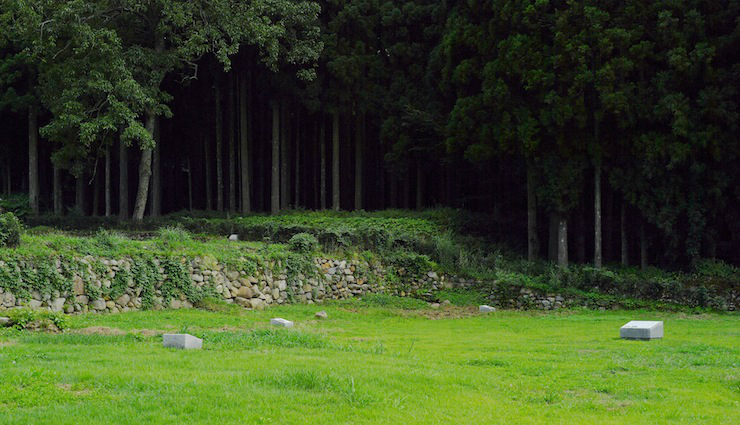 One of the remarkable archaeological finds is the stone-paved road, which is 230 meters long, making it the largest excavated medieval stone road in Japan.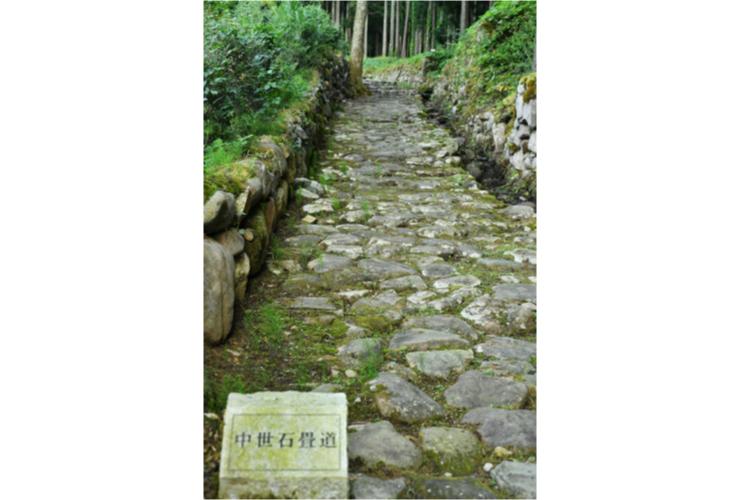 Heisenji Hakusan Shrine is filled with perfect silence, clean air, and moss beautifully covering everything, from trees, to rocks and pebbles scattered across the grounds.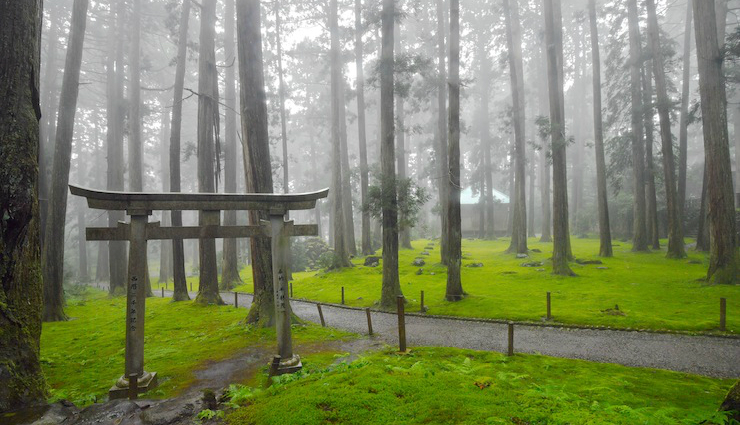 You can see various mosses from light green to brown, luminously waving on the ground. It looks like a giant green carpet.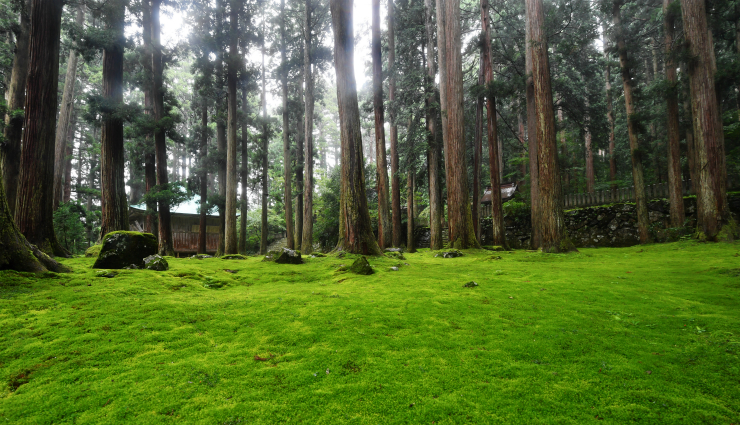 Moss never grows dramatically overnight. Instead, it takes years to grow, just as trees do. The spirit of Heisenji Hakusan Shrine has been kept alive through the moss, trees and other plants that have grown here since long ago. Connecting us to a time before it was burned down in the late of 16th century.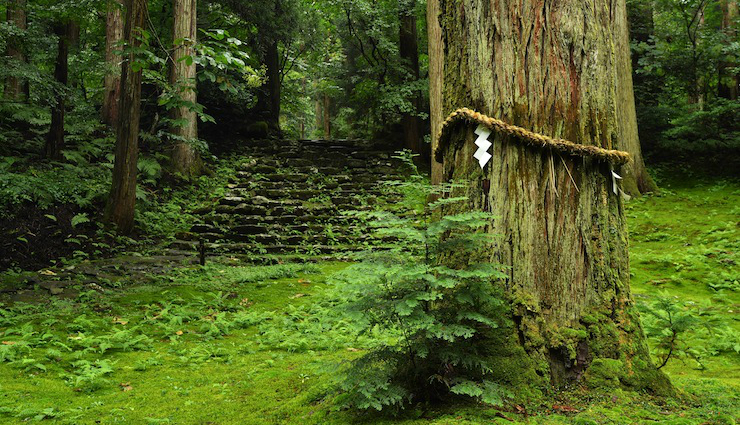 Even though Japan has been drastically changing, especially since the end of World War II. Almost everything comes and goes so quickly: no time is given to the accumulation of moss.
Heisenji Hakusan Shrine is there to remind us of an ancient lesson left forgotten for a long time.
【抄訳】
英語のことわざのひとつに、"A rolling stone gathers no moss(転がる石に苔むさず)"がありますが、日本にも、同様のことわざがあり、職業や住まいを転々とする人は成功できない、言い換えれば、「あきらめるな」「苦労は報われる」を意味します。このことわざにもあるように、苔は、時間を表すもの。そして、日本の文化は、時間や年月、歴史を重んじます。それゆえ、日本人は、苔を愛でるのかもしれません。
苔は、深い緑の茂みに生息する花のない植物で、約12,000種のうち、2,500種以上が、湿気の多い日本で生息しています。平泉寺白山神社は、日本の霊峰のひとつ白山のふもとにある、美しい苔の地として知られています。
日本は、古代から、自然とともに生きてきました。とりわけ、山は、水、食料、木材など、ヒトが生きるために不可欠なものを与えてくれる存在。人々は、山に感謝し、やがて、これを崇拝する人も現れはじめました。このような山岳信仰の拠点として、1300年前、泰澄によって建立されたのが、平泉寺白山神社です。
717年に平泉寺白山神社が建立されて以来、この地域は、宗教の街として発展し、16世紀半ばには、48社、36堂、6千坊があったといわれています。しかしながら、1574年、戦火で焼失し、やがて朽ちていきました。
この200ヘクタールにもわたる"消え去った街"は、まだ解明されていません。平成元年から発掘調査が開始され、ようやく全体の1%の発掘が完了したところです。
これまでに発掘されたもののうち、顕著なものとして、石畳の道があります。全長230メートルで、現時点では、日本で最大の中世の石畳とされています。
平泉寺白山神社は、静寂と澄んだ空気に包まれ、木々、小石、岩、土など、あらゆるものが、苔で美しく覆われています。
若い緑から茶色まで、様々な苔が、地面で鮮やかに波だっています。それはまるで、巨大な緑の絨毯のようです。
苔は、木々と同様、一晩で劇的に成長することはなく、年月をかけて育ちます。すなわち、平泉寺白山神社は、苔や木々、その他の植物とともに、16世紀後半に焼失した後も、脈々と生き続けてきたといえます。
一方で、日本は、とりわけ、第二次世界大戦後、大きく変化してきました。ほとんどのものは、すぐに流行っては廃り、苔が生えるいとまがないのです。
平泉寺白山神社は、私たちが長年、忘れ去ってしまった何かを、思い出させてくれるかもしれません。